This is was happens when a giant leans on an old archway....

Das passiert, wenn ein Riese sich an einen alten Torbogen lehnt ...

First Wisbert was frightend when the old giant Ponderhead was approaching. But then the big giant stopped and wanted to lean against the old archway. Uuups - he was to heavy. "I'm sorry!" he stammered.

Zuerst fürchtete sich Wisbert, als der alte Riese Grübelkopf sich ihm näherte. Dann aber stoppte der große Wissenschaftler und wollte sich gegen einen alten Steinbogen lehnen. Uuups - er war wohl etwas zu schwer. " 'Tschuldigung!" stammelte er.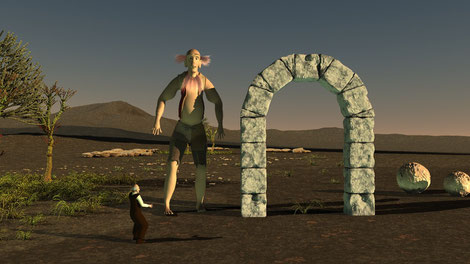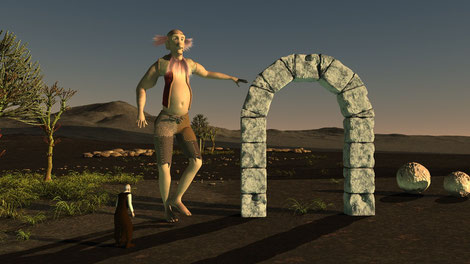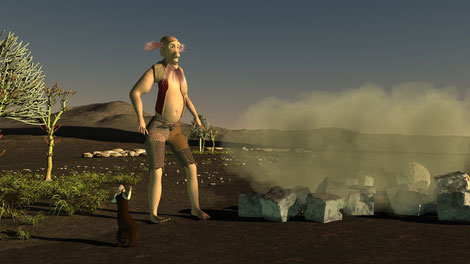 Finally I have another goody for you: Here's a stereoskopic picture in anaglyph-format. So find your cyan (or blue) / red glasses and watch this picture in 3D!

Zum Schluß noch ein Extra: Hier ist noch ein stereoskopisches Bild im Anaglyph-Format: Also sucht eure cyan (oder blau)-roten Brillen und dann seht ihr das Bild in 3D!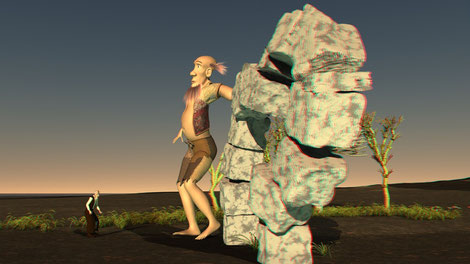 This blog will be updated on Friday the 11-th September 2015 at the latest.

Dieses blog wird spätestens am 11. September 2015 aktualisiert.