Die Landkarte wird 3D! Ein stilisiertes Relief von Zwelfen.
The map goes 3D! A stylized landscape of Twelven.
Hier siehst du die komplette Darstellung von Zwelfen.
Here you see the complete view of Twelven.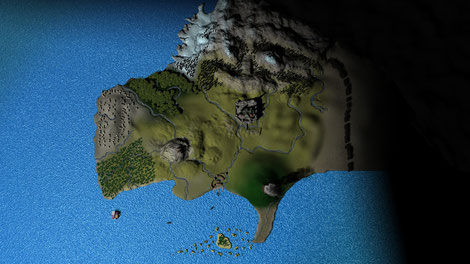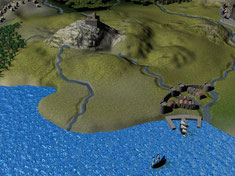 Hier sieht man den Hafen im Süden und den Berg der Mönche links im Hintergrund. Da das Relief stilisiert ist, sind die Gebäude natürlich nicht in der richtigen Proportion und nur angedeutet.

Here you see the harbour in the south and the mountain of the monks on the left. Because the map is stylized the proportions are not correct.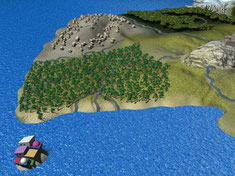 Hier sieht man die Palmen von Tipiku und dahinter das karge Land von Gigahom mit den großen Felsblöcken, mit denen die Riesen gerne spielen.

Und im Vordergrund sieht man die Insel Kreatio - wo die Erfinder wohnen.

Here you see the palm-trees of Tipuku and in the back the desolate country of Gigahom with lots of rubble laying around, because the giants like to play with it. And in the foreground there's the island of Creatio - where most of the inventors live.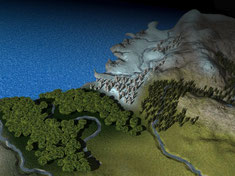 Nördlich von Gigahom liegt der 'Große Wald'. Und noch nördlicher liegt Nordenskun, Land der Fjorde und des Schnees.

North of Gigahom lays the Big Forest. And more in the north there is Nordenskun with it's fjords and snow.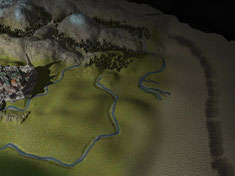 Westlich von Nordenskun ist Bergen, ein Land mit hohen Bergen, klaren Wasserfällen und fleissigen Bewohnern. An der östlilchen Grenze zum bösen Königreich von Mismuhn liegt das Land Tiefenborn. Aber die natürliche Mauer des Flexrank beschützt das friedliche Königreich Zwelfen vor seinen Feinden.

Westwards of Nordenskun lies Bergen, a country with high mountains, clear waterfalls and hard-working people. On the eastern border to the mean kingdom of Grottania lies the country of Deepwell.But the natural wall of the Flexrank guards the peaceful kingdom of Twelfen before their enemies.

Schlussendlich ist hier der Vulkan von Abudantia - einem sehr fruchtbaren Land - und die Landzunge von Philatia.

Ach ja - beinahe hätte ich es vergessen: Links sieht man ein paar der unzähligen Inseln der Agapados Inseln - dort wo die freundlichsten Menschen des Königreichs wohnen.

Finally here is the vulcano of Abudantio - a very fruitful country - and the headland of Philatia. Oh yes - I nearly forgot - on the left you see the countless islands of the Agapados Islands - where the most friendly people of the kingdom live.