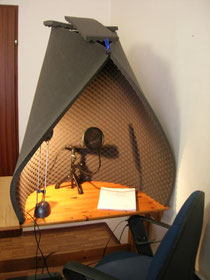 Nach harten, arbeitsintensiven 4 Wochen ist das Hörbuch nun endlich fertig! Ich hatte mir das viel einfacher vorgestellt ( so locker mindestens 6 Kapitel pro Tag aufnehmen - geschafft hatte ich aber als Maximum nur 2,5).
Ach so! Warum Hörbuch? Wollte ich nicht an einem Motion-Comic arbeiten?
Anfang Oktober hatte ich - auch auf Anraten meines größten (und einzigen?) Fans Juliane - die Idee zu einer Vertonung der 24 Geschichten, und ich dachte mir, das wird gerade noch vor der Adventzeit fertig. Zuerst einmal einen geeigneten Homepage-Provider aussuchen - nach drei Wochen Test war Jimdo mein Favorit. Dann Homepage gestalten, shop einrichten, etc. Dann gings an Text-Korrekturen und erste Aufnahmen. Nach dem ich aber einsehen musste, dass wenn ich eine akzeptable Tonqualität zusammenbringen wollte, nicht einfach so locker in ein Mikrofon sprechen könnte, sondern mir noch ein bisschen ein Equipment zulegen sollte (Mikro-ständer, Pop-Killer, Akustik-Schaum), entstand obiges Mikro-Tonstudio.
Du kannst das Resultat hier auf der Homepage unter 'Projects/Auf der Suche nach den 24 Edelsteinen' probehören oder auch im shop kaufen. Auch das Buch in .pdf-Form ist erhältlich.
Aber jetzt geht's wieder weiter mit 3D - endlich!
After hard-working 4 weeks finally the audio-book is finished!
But wait - didn't you work on a motion-comic? So why an audio-book?
Well, at the beginning of October I had the idea to publish an audio-book because it easy to do and it will be right finished at the beginning of the Advent and could be usable as an Advent-calendar. But after some days I realized that it will be hard work and I would need some more equipment. And after I invested in some little things like a pop-killer, a microphone stand and acoustic foam this litte studio developed.

You can listen to the result here on my homepage on 'Projects/Auf der Suche nach den 24 Edelsteinen' or even buy it here in the shop.
An e-book in Acrobat-Reader-format is available too.
But now I will go on with 3D - yeah!